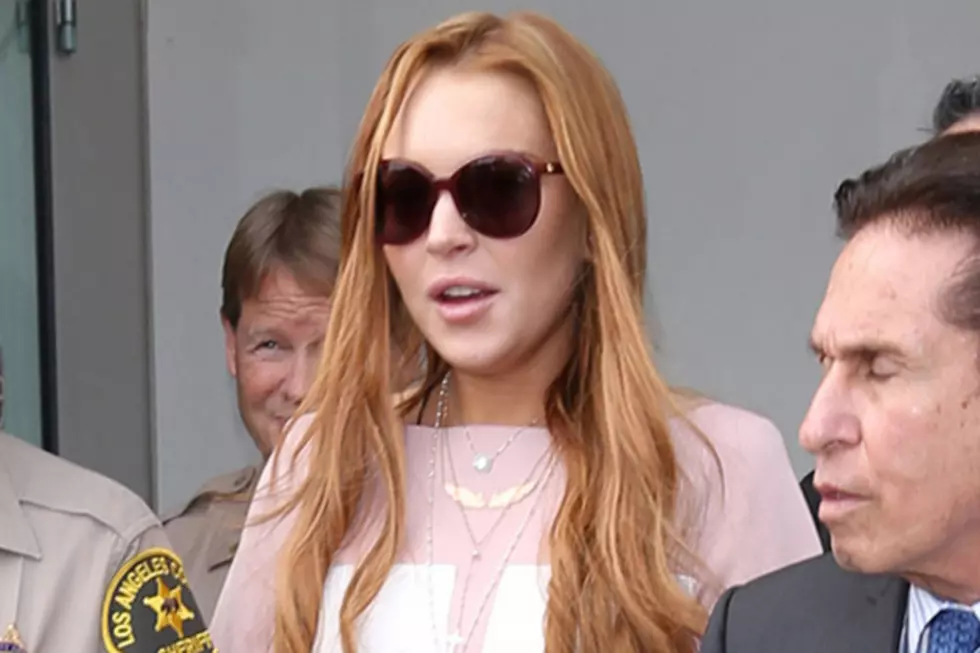 Today in Lindsay Lohan: Sipping on San Pellegrino, Showing Up to Set On Time + Staying Out of Rehab Long Enough to Get to Coachella
Pacific Coast News
While that doesn't bode well for her recovery, neither does the fact that she refused to go into rehab until the Coachella Festival was over.
Lohan was photographed with Snow, a fedora, and a bottle of Pellegrino (that's fancy water, everyone) last night in Santa Monica, Calif.
While it was refreshing that she was sipping on non-fermented refreshments, it's probably still not the ideal setting for someone with a substance abuse problem that she won't admit to having.
Neither is the Coachella fest, but that didn't stop Lohan from demanding that any deal she brokered with prosecutors still allowed her to go.
"Lindsay was adamant that she not be forced to go to rehab until after the Coachella Valley Music and Arts Festival in the Palm Springs area on successive weekends in April," a long-winded source told Radar Online.
"Lindsay loves  going to the musical festival, and she's determined to go this year. She didn't want a little thing like rehab to get in her way of attending. Linds refused to sign off on any deal that would have prevented her from going to Coachella, period. Yes, it's that important to her, for some strange reason."
That strange reason may be access to easy booze and drugs, which she'll be treated for once she finally does get into rehab.
The source says, "Lindsay will be treated for prescription drug and alcohol addiction during her stay. Lindsay's prescription drugs of choice are Adderall and Xanax, and in addition, she consumes large amounts of alcohol — specifically, vodka."
Also not the best place for her? Party mecca Brazil, where she'll head to promote a clothing line this week following her filming for pal and frequent bailer-outer Charlie Sheen's 'Anger Management.'
Lohan is making low six figures for her appearance, which should help in her tax lien and other massive debts.
Speaking of 'Anger Management,' Lilo has been a star starlet for her arc on the show -- she even made it to set early.
Still, don't hold your breath for professionalism to become a habit. She already has enough of those to worry about.