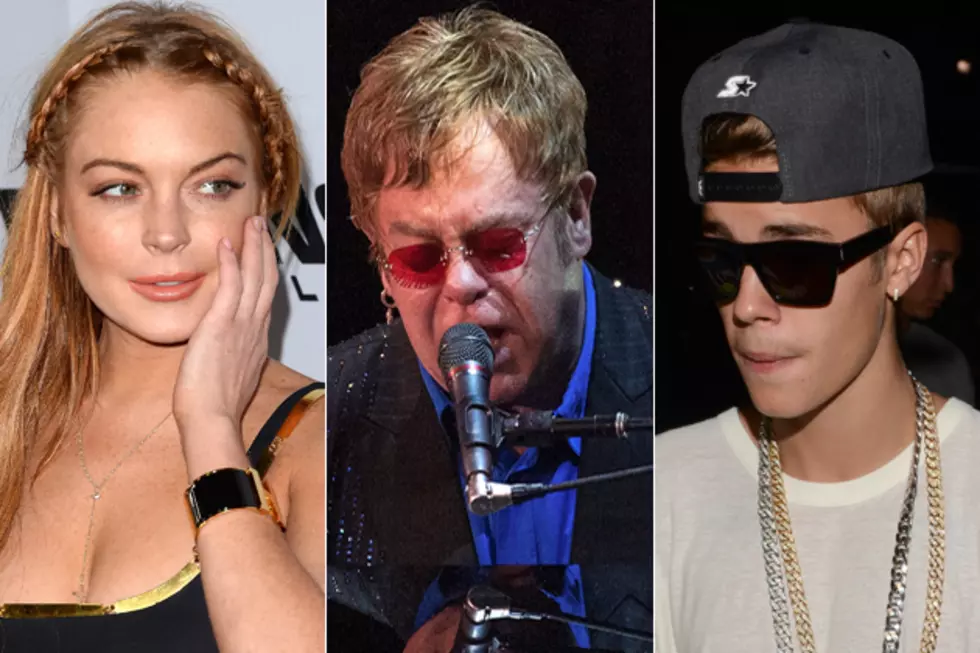 Elton John Pens a Song About the Downward Spirals of Lindsay Lohan + Justin Bieber
Jason Merritt / D Dipasupil / Vivien Killilea, Getty Images
Elton John has a message for young Hollywood: Stay strong.
The legendary singer, who battled addictions himself for years, penned a song dedicated to the downward spirals of stars like Lindsay Lohan and Justin Bieber.
"I feel sorry for these kids," John told Britain's Events Magazine (via Radar Online). "I worry that they will just get swallowed up."
What does he think will swallow them up exactly? He's blunt: "The drugs, the excesses, the millions on flowers, the tantrums and the glasses. But it isn't [about me]," he said of the song, 'Diving Board.' "It's about Lindsay Lohan, Justin, all these kids who are out there now not knowing what the hell is going on."
John is particularly sad about the state of Lohan, though she recently completed rehab and seems to be on the up and up. "I hate to think of Lindsay because she had a talent," John lamented. "She was a great actress, and then it became all about the madness, the parties, and everyone forgets about what put them there in the first place."
The 'Benny and the Jets' hitmaker explained it succinctly and perfectly before reiterating a prior point: "They get lost in the idea that they are famous for who they are, not what they are. I feel sorry for these kids."