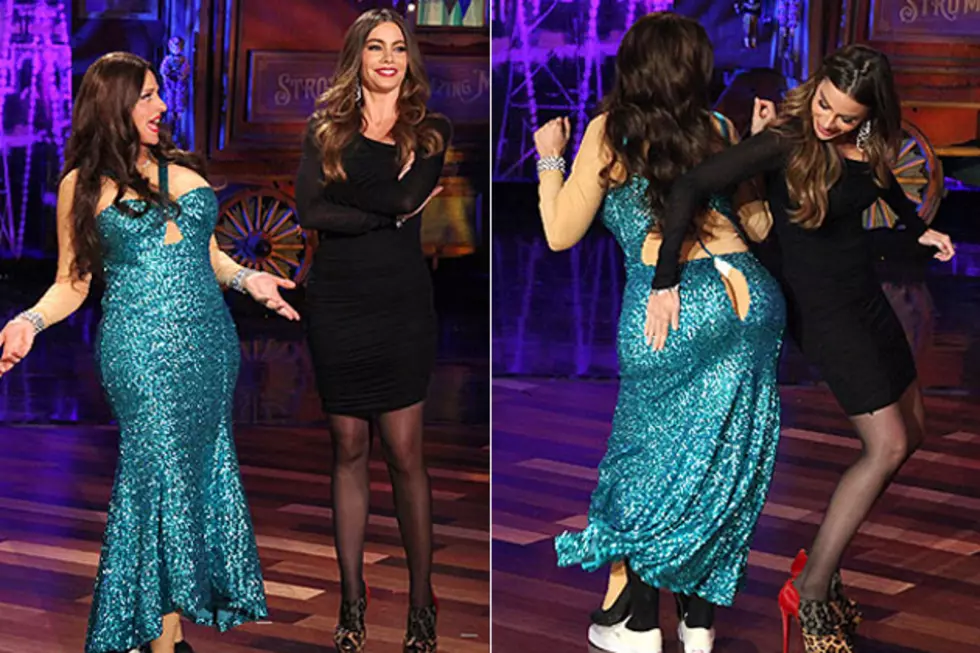 Ellen DeGeneres Wins Halloween With Her Sofia Vergara Costume [VIDEO]
Warner Bros.
Halloween is a fun day for a lot of shows, but with the weather situation this year, a lot of programs canceled their annual celebrations. But on Wednesday, Ellen DeGeneres did us a huge favor and gave us something awesome to laugh at.
She dolled herself up as fellow Cover Girl spokesmodel Sofia Vergara.
The show host came out in a curvy bodysuit and recreation of Sofia's Emmy dress -- you know, the one with the cheeky wardrobe malfunction. Which was of course authentically recreated on Ellen's costume.
DeGeneres never wears heels, but she had some rather comical replicas on top of her standard white sneakers, and she donned a long flowing wig of brunette hair to top things off.
In her best Vergara accent, Ellen purred, "I am Sofia Vergaaaaara and I am easy breezy beautiful Cover Girl from Colombia." She talked about how beautiful she was and how difficult her life is because she's so busy with Cover Girl, Diet Pepsi, Burger King, her new clothing line and the award winning 'Modern Family.'
She wished everyone a "Happy Halloweeeeeen" and said, "As you can see, I put my pumpkins out."
It was all fun and games until Vergara actually showed up while Ellen was talking about how fake her accent was and played upset and offended to the hilt. She told Ellen that her "ass looks huge" and said, "You look ridiculous."
Ellen replied with, "I have to say, it's like looking in a mirror."
As the two played off each other hilariously, Sofia even tried to teach Ellen some Spanish phrases so she could perfect the accent. It didn't seem to work, so instead, they danced. Vergara was a good sport and even got in a few saucy ass slaps during their boogie.
So much win, ladies. So. Much. Win.