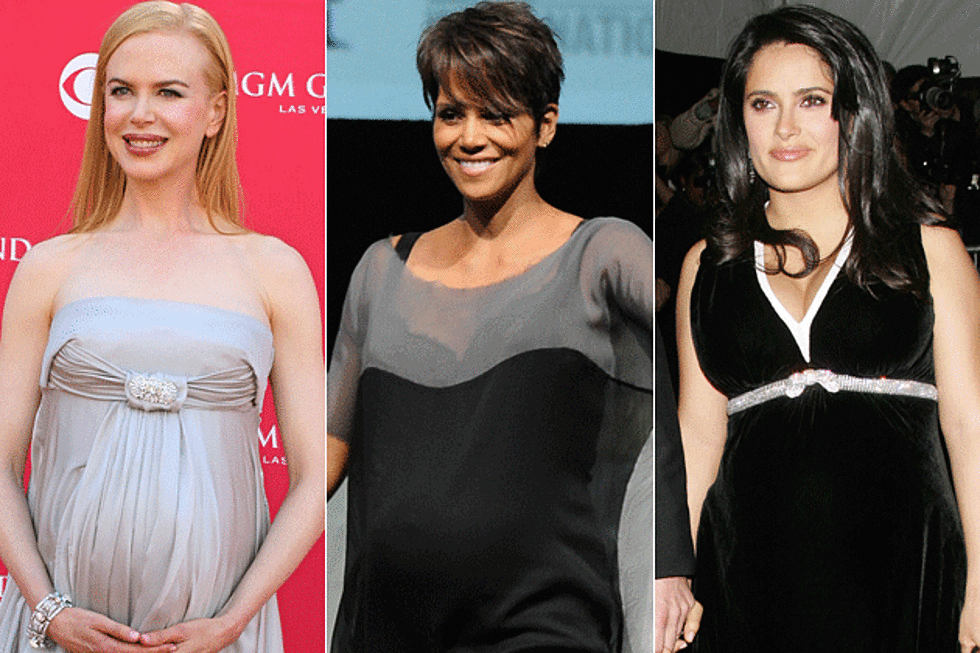 10 Celebrities Who Got Pregnant After 40
Frederick M. Brown / Kevin Winter / Evan Agostini, Getty Images
Gwen Stefani may or may not be pregnant with her third child, which had us thinking about all the other celebrity mothers of the world who found themselves in the family way at 40 and up.
Within this list you will find all the stars who got pregnant after they found themselves over the hill, complete with their real ages. Yes, their real ages. Sorry ladies, no lying allowed.
It's okay, you all still look great!
Nicole Kidman: Baby No. 1 at 40
Nicole Kidman gave birth to daughter Sunday Rose Kidman Urban (real name) with husband Keith Urban in 2008, their first, which they had through a natural birth. Kidman found her pregnancy to be a blessing considering she thought she would never be able to be a mother, which makes it even more magical.
Tina Fey: Baby No. 2 at 41
Funny lady Tina Fey gave birth to her second daughter, Penelope Athena Richmond, with composer husband Jeff Richmond, when she wsa 41. Unfortunately, it was a very stressful pregnancy and left Fey with woes about juggling work on her sitcom '30 Rock' and her desire to expand her family -- all problems she worked through in her memoir 'Bossypants.'
Salma Hayek: Baby No. 1 at 41
Salma Hayek welcomed daughter Valentina Paloma into the world in 2007 with fiance Francois-Henri Pinault, their first child together who would join Pinault's two other children. Apparently Hayek announced the news to her friends and family via text message, which is pretty tech-savvy for a 41-year-old.
Julianne Moore: Second Baby at 41
Actress Julianne Moore gave birth to her doppelganger daughter way back in 2001. Liv Helen was Moore's second child with director Bart Freundlich (who is nine years her junior) but was born before the duo were married. He proposed in 2009 with an engagement ring that included both children's names in it "because they came first."
Halle Berry: Baby No. 1 at 41 and No. 2 at 46
Halle Berry is currently pregnant with her second child at the age of 46, but she gave birth to her first after 40 baby Nahla Ariela in 2008 with her model boyfriend Gabriel Aubrey. Baby number two will be born in wedlock sometime this year and will have actor and Frenchman Olivier Martinez as a father.
Madonna: Baby No. 2 at 42
Madonna and her boyfriend at the time, director Guy Ritchie, gave birth to a son, Rocco John Ritchie in 2000, joining Madonna's daughter Lourdes who was three at the time. When she announced her pregnancy, Madge joked that she was considering naming the kid Baby Jesus. We're glad she went in a different direction.
Mariah Carey: Twins at 42
Songbird Mariah Carey gave birth to her adorable twins with Nick Cannon in 2011. Carey gave birth to "Dem Babies" Monroe (after Marilyn Monroe) and Moroccan Scott (Cannon proposed in Morocco) via C-section on the couple's third wedding anniversary.
Helena Bonham Carter: Baby No. 2 at 42
Tim Burton's partner Helena Bonham Carter gave birth to their second child in 2007 which was an awesome early Christmas gift to the family. If you have a problem with HBC's fluctuating bosom size in 'Sweeney Todd,' you have little Nell (named for all the Helens in the Carter family) to blame for that one.
Uma Thurman: Baby No. 3 at 42
Uma Thurman gave birth to her first baby with second husband Arpad Busson last year, a daughter named Rosalind Arusha Arkadina Altalune Florence Thurman-Busson. (Phew!) Thankfully, they call her Luna for short. Thurman has two other kids with her ex-husband Ethan Hawke, Maya (15) and Levon (11).
Kelly Preston: Baby No. 3 at 47
Kelly Preston, wife of John Travolta tops our list with her birth in 2010 to the couple's third child Benjamin Hunter Kaleo. They also have their daughter Ella Bleu, who was born in 2010, and their eldest son Jett, who sadly passed away at the age of 16 from a seizure in 2009. Since she gave birth well into her late 40s, many suspected Preston did not have a natural birth.