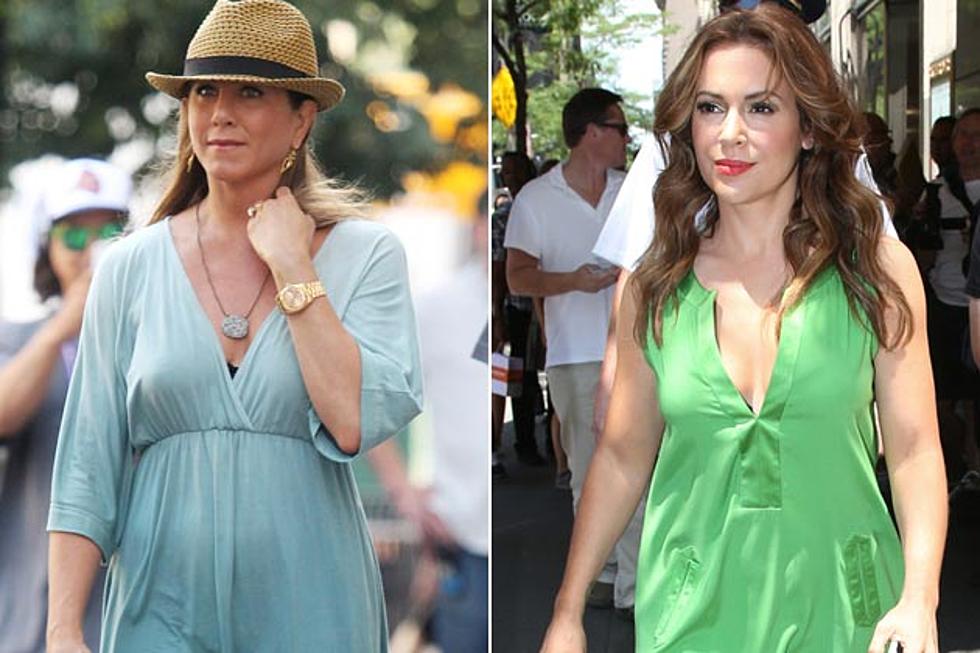 Try This Trend: Jennifer Aniston, Alyssa Milano + More Take a Dip in V-Necks
Pacific Coast News (2)
It's summer, which means it's time to show more skin -- and celebs are doing just that with deep V cuts. Not only is it okay to let the neckline plunge and the cleavage breathe in stifling weather, you get the added bonus of showing off your assets. But there are lots of ways to wear a V-neck, so you can pick what makes you most comfortable.
Jennifer Aniston and Alyssa Milano wore deep Vs in their summery dresses, which is our fave way to rock this look. (The only drawback? The tan lines it creates.)
Jennifer Aniston
Aniston was Cali cool in NYC with a loose ombre sea green summer dress that dipped low. Her cut was modest and she didn't show off too much of the girls.
Alyssa Milano
The sexy actress and new mother wore a kelly green summer dress of an entirely different cut. The mod shape was retro cool but the wide V showed some side boob. Wear if you dare.
Vanessa Hudgens
Deep Vs also work at fancy events. Hudgens donned a sparkly and sheer gown with a dangerous dip -- a shape certainly recommended for fashionstas who like to take chances and understand the value of double-stick tape.
Beyonce
Queen Bey was the most casual of the bunch with her print dress. Her V wasn't too low or too exposing, but it was fresh and cute. This comfortable and fashionable cut is the one that just about every girl can wear.