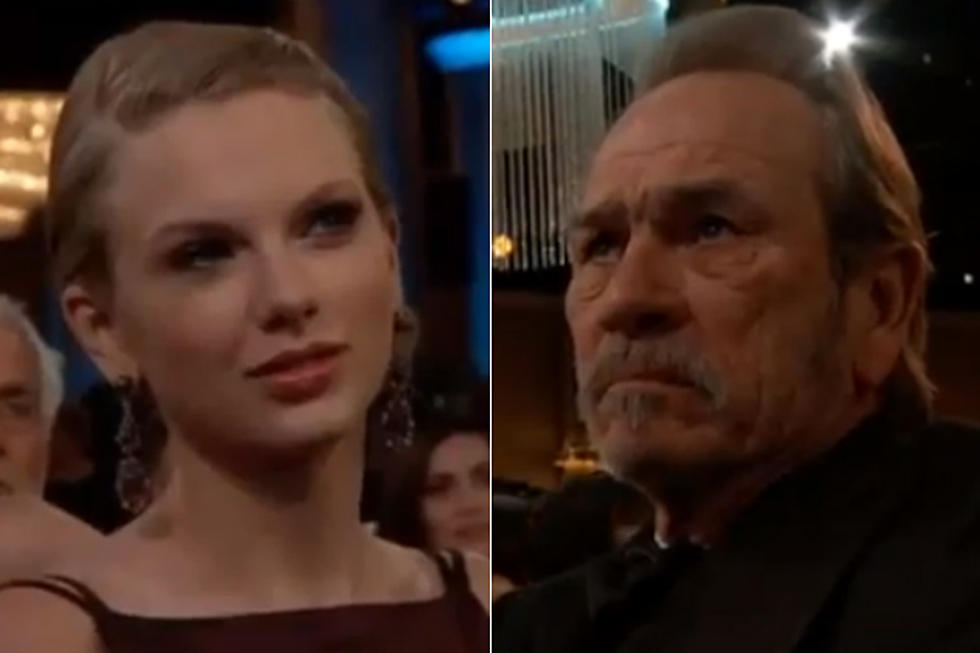 Taylor Swift and Tommy Lee Jones Were Not Impressed at the 2013 Golden Globes [GIFs]
NBC
Hollywood awards season is now upon us, and some say that performers truly earn their awards with all the pretending to be happy they have to do when other people win.
Maybe they didn't like the food. Maybe their shoes didn't fit. Or maybe they were worried about getting their taxes done on time. But whatever it was, neither Taylor Swift nor Tommy Lee Jones seemed to have much fun at Sunday night's Golden Globes.
The newly single Swift was nominated for 'Safe & Sound,' her original song for 'The Hunger Games,' but had to watch as Adele accepted the Golden Globe for her song 'Skyfall' from the Bond movie of the same name.
We're sure T-Swizzle felt it was an honor just to be nominated, but it didn't seem like she thought much of watching Adele's exuberant speech. What can we expect? It's the first awards show she's ever attended where she didn't come out with an armful trophies.
She's a temperamental musician, not a trained actress. Plus she was probably busy scanning the crowd for available barely-legals to flirt with.
Meanwhile, being one of the respected elders of Hollywood is very serious business, as evidenced by the very stoic – and possibly having some kind of stroke or a bad reaction to medication – Tommy Lee Jones.
It's not immediately obvious what Kristen Wiig and Will Ferrell did to Jones' puppy before the show, but it was immediately obvious that he did not appreciate it because he didn't crack a smile during their hilarious description of the actresses and films in their presentation category.