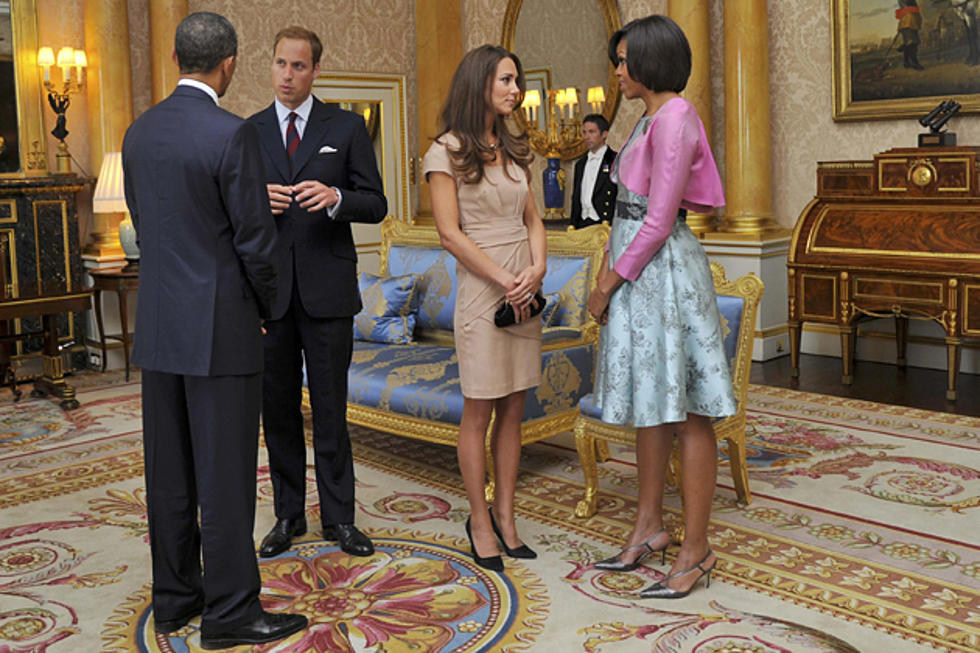 Prince Charles, the Obamas and a Town Crier Congratulate Prince William + Kate Middleton [VIDEO]
WPA Pool, Getty Images
Prince William and Kate Middleton's Royal Baby earned kudos from everyone all over the world, including those of us here -- you know, in that country that won the Revolutionary War -- and the royals issued appropriately and predictably polite, somewhat stiff statements about the birth.

William and Kate thanked the world for the love and support they received during the birth of their as-yet-unnamed son, but especially the hospital (which even included a "royal gynecologist"), saying in a statement via Us Weekly, "We could not be happier. We would like to thank the staff at the Lindo Wing and the whole hospital for the tremendous care the three of us have received."
The couple continued, "We know it has been a very busy period for the hospital and we would like to thank everyone -- staff, patients and visitors -- for their understanding during this time."
William's father, Prince Charles, told press, "Grandparenthood is a unique moment in anyone's life, as countless kind people have told me in recent months, so I am enormously proud and happy to be a grandfather for the first time. We are eagerly looking forward to seeing the baby in the near future."
The pair were also congratulated by people with actual power and relevance. President Barack Obama issued a statement following the prince's birth.
"Michelle and I are so pleased to congratulate The Duke and Duchess of Cambridge on the joyous occasion of the birth of their first child," Obama said. "We wish them all the happiness and blessings parenthood brings."
The leader of the free world continued, "The child enters the world at a time of promise and opportunity for our two nations. Given the special relationship between us, the American people are pleased to join with the people of the United Kingdom as they celebrate the birth of the young prince."
And because the U.K. is still a country where monarchy is celebrated, it shouldn't be that surprising that they still have things like a Town Crier when the Internet and broadcasting systems exist.
Now you can watch the Town Crier announce the birth of William and Kate's Royal Baby, even though Twitter took care of it a while before.