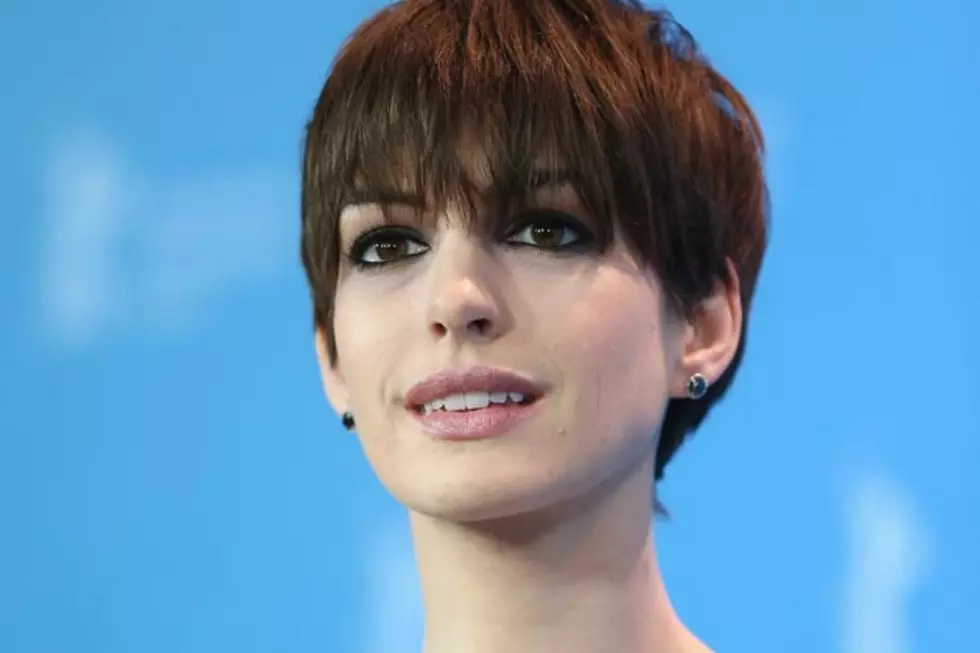 Anne Hathaway Style Breakdown: What's Right, What's Wrong, and How to Fix It
Andreas Rentz, Getty Images
Anne Hathaway has emerged as a fashion plate only in the past two years or so. While she looked gorgeous when she (awkwardly) co-hosted the Oscars in 2011, blowing through seven dresses, she's only truly exploded and evolved as a fashion risk-taker and edgy dresser in the past year. She has become "one to watch" on red carpets.
With her roles in 'The Dark Knight Rises' and 'Les Miserables,' the latter of which looks to be earning her an Oscar this Sunday (Feb. 24), Hathaway's star has ascended, so her image and style had to be elevated right along with it.
A. Hath has enjoyed some serious high watermarks, like this gorgeous white column Chanel gown at the Golden Globes this year.
But then there was the crotch flash and those dominatrix Tom Ford boots, which were actually vegan, that she wore to a 'Les Miz' premiere. She vamped it up, Goth princess style, with red-stained lips. But it was certainly out of character and not her best, cage boot-covered foot forward. She was going for sexy but that wasn't the end result.
What's Right:
At the 2011 Oscars, Hathaway was gorgeous in this strapless maroon Atelier Versace dress. It was sexy and didn't really offer a hint to her future edginess, but it was a thumbs up.
This bright pink satin Prada gown she wore during awards season this year is a silhouette she favors and has worn repeatedly. It highlights her swan-like neck and her figure, and this cut and shape works best with her pixie locks (which she seems to be growing out).
This Chanel dress is a "love it or hate it" moment and a polarizing choice. Us? We lurve it. It's utterly mod. The dark color pairs beautifully with her shaggy bangs and smoky punk-rock eye makeup. We'd love it more if it were a mini without the extra black train, but we'll take it with the sheer skirt. The black tights are so "right now."
This irridiescent "is it purple or is it blue?" Armani dress that she wore at the 2011 Oscars was incredibly different, and while the shiny fabric looked like it could conduct electricity, the actress made a bold choice. This was a hint of how edgy she would become.
Hathaway was just lovely in a champagne-colored spaghetti-strap Oscar de la Renta gown during the 2012-2013 awards season. It was not fussy, and the detailing on the fabric made it extra pretty.
When visiting 'Late Night With Jimmy Fallon,' the actress was glam in a fitted Cushnie Et Ochs frock in winter white. The three-quarter length sleeves gave it a fresh perspective, and she could not have been more polished. The ruby red 'Wizard of Oz' shoes were the perfect accessory.
What's Wrong:
Yikes. This casual ensemble from 2011 is a mess. She's sloppy and ill-matched. Mixing patterns is risky business and there was no reward here, since the pants look like they have dandruff on 'em.
This beaded, bone-colored Givenchy dress was a train wreck. The off-the-shoulder top was very Vegas lounge-act and the pearl details were too "grandma's house."
Nerdy chic? The Hath was trying too hard in this cute purple dress. The glasses don't go, stylistically. And how about a pedi?
This Valentino floral is too long, too voluminous, too matronly and too dull.
Did we mention we tend to prefer Anne Hathaway in solids? There's something too busy about this floral print skirt and bright red shoes. Dark tights are ragin' currently, but the components of this ensemb don't match.
How to Fix It:
At 'The Dark Knight Rises' premiere last summer, Hathaway hit all her signature style points. She wore white, something she does well. She wore a hot designer, Prabal Gurung, something she also does well (she always steps out in designers every celeb covets). She also looked pixie-cute with the short hair and that plunging neckline.
Hathaway once admitted to being a "vanilla," so she doesn't do sexy. However, she can take it up a notch if she goes this route again. We'd like to see her in shorter hems and showing some skin, like she did in this Nina Ricci frock. (Again, what's with the lack of pedicure in strappy shoes? Come on, Anne. Get thee to a salonery.)
She also looks good in strapless cuts and jewel tones. She doesn't always have to be edgy or such a fashion try-hard like she was with some of her 'Les Miz' dresses. She can be girly and frilly and frothy and still look fashionable.
We love her in a new'ish designer, like Erdem. While the short hem works, the print doesn't since her skin is so pale. She's better suited in solids.