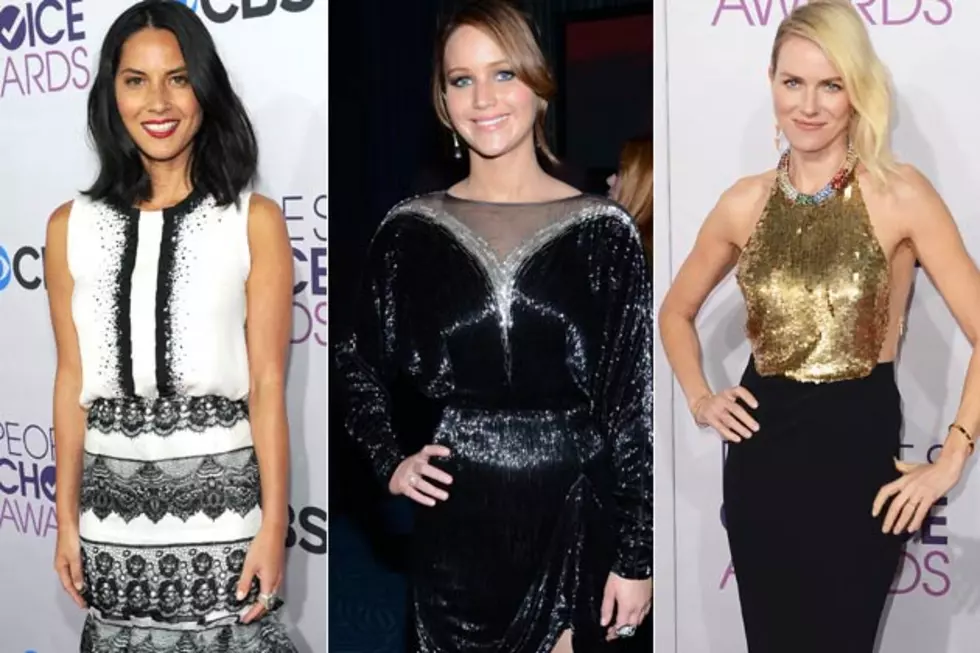 2013 People's Choice Awards – Worst Dressed [PHOTOS]
Michael Bucker / Jason Kempin / Jason Merritt, Getty Images
The 2013 People's Choice Awards on Jan. 9 featured more well-dressed stars than questionably-attired ones -- which, of course, makes style watching infinitely less fun. But make no mistake. There were some clunkers among the gems. The problematic outfits were either too casual or just plain sloppy attempts to be dressy.
The worst offenders bummed us out since they're all usually so stylish.
Jennifer Lawrence
J. Law is easily the hottest actress of her generation, and rightfully so. But her black and silver Valentino dress was messy and unpolished -- the loose, hanging swath of fabric wasn't stylish or styled. We expected much more from this stunner. But we will forgive our dear Katniss Everdeen. (She could seriously kick our asses.)
Naomi Watts
The talented actress, much like Lawrence, donned a sloppy and incoherent gown with no cohesion. She looks like she rolled out of bed and threw on a gold swatch of fabric so she wouldn't get arrested for indecency and that's about it.
That "halter" top doesn't look like it fits, either -- with no back, it's a wardrobe malfunction waiting to happen. We also expect more from designer Alexander McQueen (the dress is from the late designer's resort line). A risky choice, but a failed one.
Olivia Munn
We don't know "who" she was wearing -- and we don't want to. It's way too casual and frumpy and looks like something she plucked off a clearance rack. No woman her age (she's 32) should age herself with clothes, let alone one this beautiful. The sassy actress is too hip and fun to be this dowdy.
Ellen Pompeo
Why was she wearing a bathrobe to a major Hollywood awards show? Her bone-colored Lanvin gown, cinched with a black belt, could have been sexy with its deep cut neckline and slit, but it was more suited for wearing after a nice long hot shower.
Alison Sweeney
The 'Days of Our Lives' actress wore a gold mini that was a tad too tight and too wrinkled. Oh wait, those aren't wrinkles -- it's a chain wrapped around some sort of alligator-like skin. Eek. Too much.