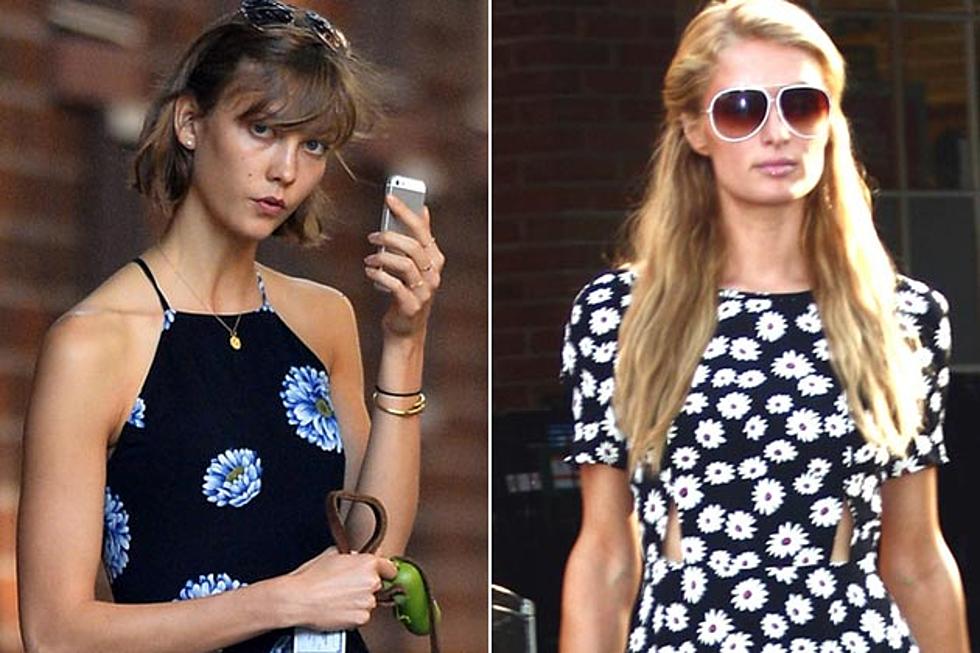 Try This Trend: Karlie Kloss, Paris Hilton + More Get Girly in Flower-Print Dresses
Pacific Coast News (2)
Flower-print dresses are perfect for summer, especially when the hems of the frocks are short. They're fresh, fun and flirty, just like the buds of the season. And since flower-print apparel is easy to find and comes in a variety of cuts and colors, there are options for all of us -- short, tall, petite, curvy, girlish or glam.
Here, you'll see model Karlie Kloss went with a geometric neckline, while celebutante Paris Hilton was kinda darling in black and white.
Karlie Kloss
The super tall, super thin model wore a navy blue number with a squarish neckline and flats, showing off her toned legs.
Yes, we giggled at her pup relieving himself. (When you gotta go, you gotta go.) But Kloss' cute and casual outfit made the mundane act of dog walking look like a glam task.
Paris Hilton
The famous-for-being-famous star wore black and white flowers in a girlish cut. She accessorized with white shades and a statement bag, which elevated this look from cute to fab.
Jaime King
The actress's summery dress had splashes of pink, blue and while. (We're ignoring that jacket/cardigan/Sasquatch thing in her hand.)
She paired the frock with menswear-style shoes, but because the hem was so short and she's gorgeous, she could get away with dude-like footwear. Be warned, though: That's not a trend most of us should try. Flip flops or thong sandals would be a better choice.
Dita Von Teese
Here's how you wear a flowery print in a long length. The pinup model's dress looked like she was sewn into it, and the girly/sexy combo is perfect for a wedding or a fancy evening get-together.