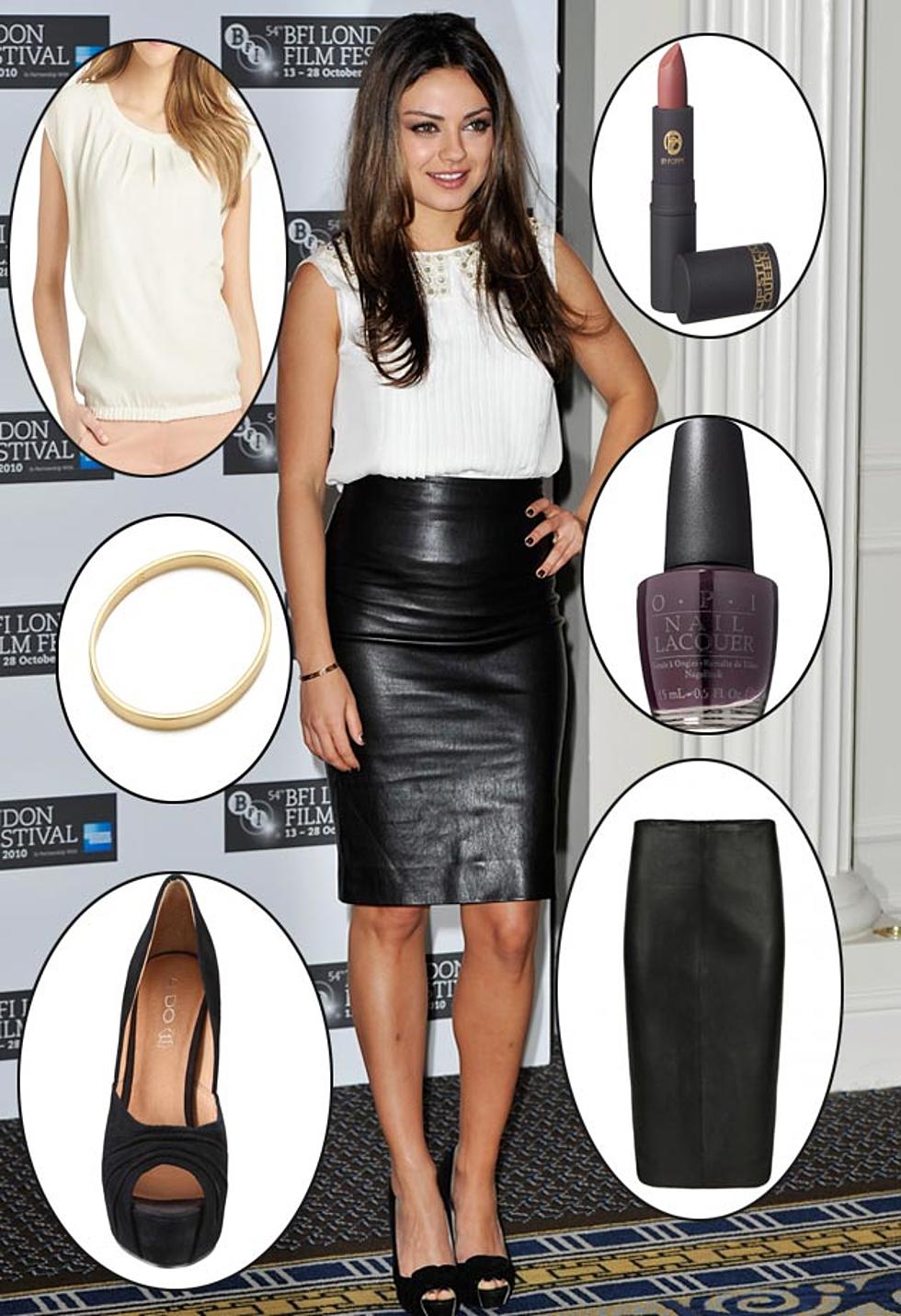 Get the Look for Less – Mila Kunis' Ladylike Leather Pencil Skirt, Peep-Toe Pumps + More
Gareth Catermole, Getty Images
Mila Kunis' ladylike yet fierce leather pencil skirt is softened by her loose and flirty white blouse. The tuck is hard to master, but it works with the long, sexy librarian skirt.
What's more, Kunis chose wise pieces to pair with the look -- a single gold bangle, simple and suede peep-toe pumps, deep plum nail polish and a nude-pink lip make this look chic and oh-so-easy to copy.
The pencil skirt gets an injection of sexiness courtesy of the leather fabric. It's a classic shape in a modern material and it will never, ever go out of style. It's an investment piece -- the priciest of this look -- but when you factor in the cost-per-wear and that it goes with so many other items, it's worth the spend.
This All Saints Lucille skirt isn't cheap at $318, but the rest of your look can be built around it for much, much less. And you'll wear the skirt repeatedly and with so many other pieces already in your closet, so it's a win-win. (And what's wrong with a little splurge?)
You can crib the white sleeveless blouse with this version from LOFT, which is floaty, scoop necked and allows for some volume so you can achieve a successful tuck (it's all about the tuck) -- for just $49.50.
The accessories are simple. A thin gold bangle, like this one from Jules Smith, won't break your bank account at $65. It's another goes-with-anything piece that's a worthwhile investment.
You can ape the actress' vampy polish with OPI's Lincoln Park After Dark, a regal purple shade with shine. It shouldn't cost more than $10, no matter the retailer. It's on sale here.
The suede peep-toe pumps are another timeless staple that you will wear over and over with a variety of outfits. Aldo's pair is just $50 on sale, but Steve Madden always has comparable (if pricier) options like these.
Finish with a swipe of Lipstick Queen lipstick in Bright Natural, a pinky nude that goes with everything. It's a rich, creamy, divine texture, which justifies its expensive-for-lipstick price tag.
There you go – lovely and ladylike, like Miss Mila, for around $500.