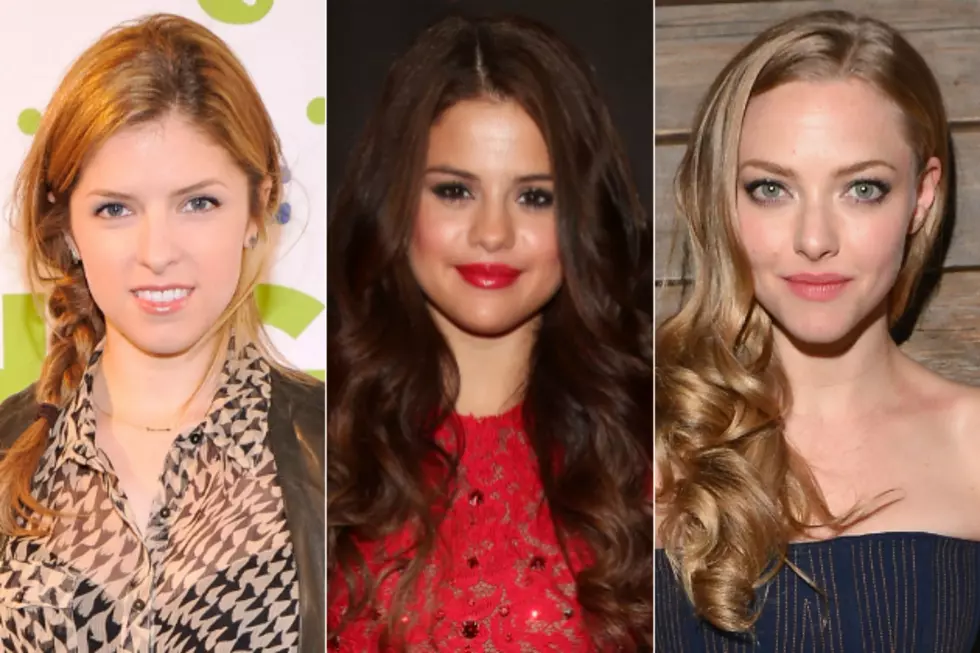 10 Hollywood Starlets Who Haven't Gone Crazy
Stephen Lovekin / Christopher Polk (2), Getty Images
You have to admit that it can be very fascinating – if only in that can't look away from an accident kind of way – to watch a celebrity unravel before our very eyes. Think of the Hollywood starlets who have imploded in front of the watchful eye of the media and fans. Lindsay Lohan, Britney Spears, Amanda Bynes, Paris Hilton, Tara Reid … the list seems pretty endless once you start thinking about it.
When it happens, the situation becomes more entertaining than the entertainer. We wonder how money and fame can't buy them even a little bit of happiness. We wonder if they realize we're all watching them. We do our best to join the Twitter fun with our 140 characters of snarky judgment. And then we think, "better her than me."
But what about the starlets who manage to find fast success, or spend their youth in the spotlight, in Hollywood and still stay sane? These young ladies work hard, live right and get very little -- comparatively -- extra attention for it. Until now. These are ten of our favorite Hollywood starlets to whom we now give mad respect for not going completely off the deep end even though they have been ridiculously famous in their youth. Ok, it's kind of a lovefest, but really, they deserve it for keeping their wits about them in the minefield that is stardom.
Let's just hope this list doesn't somehow jinx them and make them all lose it now. Well-manicured fingers crossed.
Anna Kendrick
Move over Jennifer Aniston, our newest celeb crush is Anna Kendrick. How about we just put her in every movie? She skyrocketed to the top of the A-List after as Becca in 'Pitch Perfect.' She's got four films in post-production right now and one in pre-production. How is it that other cast members from the 'Twilight' films get embroiled in ill-advised love triangles while Kendrick manages to stay off the tabloid radar and keep her down-to-earth persona alive with one of the world's most endearing Twitter accounts?
Amanda Seyfried
Here is a woman with enough mystery behind her eyes that it seems like she could go crazy at any moment, yet Amanda Seyfried, despite getting cast in pretty much everything lately, has remained surprisingly normal. She could definitely play a woman who's lost it -– hello, 'Chloe' -- but it would be all acting. She's been in front of the camera since she was 15, but we never hear about her throwing fits at paparazzi, getting in bar brawls in L.A. clubs or flashing her commando nether region to the world as she gets into a car. And, even though she shared the screen with her in 'Mean Girls,' Seyfried has been smart enough not to share the spotlight with Lindsay Lohan.
Kaley Cuoco
Because of her poor decision-making skills, we can imagine that if Kaley Cuoco's character Penny on 'The Big Bang Theory' were to become as famous an actress as Cuoco herself now is, she wouldn't survive as well. Despite the role she plays, Cuoco clearly has a good head on her shoulders. There aren't a lot of young women in her peer group who could hold their own opposite William Shatner, let alone match his popularity and not get a huge head in the process. We're glad we don't ever have to read about any drunken escapades or disturbing Twitter rants involving our adopted little sis.
Selena Gomez
Selena Gomez is the type of wunderkind who proves that you can be raised on television by Disney and date Justin Bieber and still grow up with all your marbles securely in place. She could teach a course for the Britney Spearses and Amanda Byneses of the world on how to be extremely famous while being a role model for pre-teens and having a very public relationship with another celebrity -- and still remain a smart, savvy woman. We certainly can't deny that anyone who can spend three years performing on television with Barney the scary purple dinosaur and not have any perceptible drug issues deserves a round of congratulations. The worst thing Selena Gomez has done is set the bar for Hollywood starlets way too high.
Zendaya Coleman
And speaking of Disney survivors, there's a new girl in town nipping at the heels of the lovely Miss Gomez. Being over the age of, say, 11, we didn't really know who Zendaya Coleman was until she kicked serious celebrity butt on 'Dancing with the Stars.' Suddenly, the lanky teenage dancing queen has the eyes and ears of all of America. After her second place win on 'DWTS,' she did a whirlwind press tour, released a single and has gone right back to starring in her Disney show, 'Shake It Up.' Stay classy, Zendaya!
Zooey Deschanel
The delight that is Zooey Deschanel sort of snuck up on us about a decade ago. She just started popping up in small roles here and there until she held her own opposite the wall of personality that is Will Ferrell in 'Elf.' Instead of using her innate power to get attention by just showing up and gazing at people with those eyes to party hard, post shocking things on the internet and generally make us all feel scared and sad for her, Zooey uses her power only for the forces of good. She empowers and inspires women on a regular basis on her website Hello Giggles and gives us all ear tingles in the band She and Him. She has every right to fly off the deep end, because we admit, she's so endearing we'd love her anyway, and she doesn't. She stays cute and positive and refreshingly true to herself.
Isla Fisher
Since we see her in everything that's hot these days, we have to assume that Isla Fisher isn't going on wild benders and getting arrested for driving under the influence like other starlets because she's just too busy. The craziest thing she's done is marry Sacha Baron Cohen and have two of his children.
Sophia Bush
Whether she knows it or not, Sophia Bush is proving that you can be on a melodramatic television show about over-privileged teens and not turn into a total weirdball. She came dangerously close to starlet crazydom when, in the midst of her run on 'One Tree Hill,' she married a costar and was separated within six months, but dodged the nutbag bullet. She could have easily spiraled down into Hollywood matrimonial legend status by quick-marrying the other costars she was rumored to have dated following her divorce, but she didn't. Instead, she has focused her energy on raising awareness and funds for various charities -- so much so that she was tapped to host VH1 and DoSomething.org's recent Do Something Awards. We give her a nod for becoming more well-known for the people she's helped than the people she's married.
Hayden Panettiere
America's iconic cheerleader – with superhuman powers – really is just our teeny tiny sweetheart. Even as she plays a teen star on 'Nashville' who isn't exactly sweet and innocent, Panettiere manages to keep her public persona squeaky clean. This is impressive for a girl who's been acting since she was 11 months old. She's an official supporter of Ronald McDonald House Charities and an avid, active and vocal supporter of saving whales.
Sarah Hyland
This 'Modern Family' star has been in the business for a very long time –- her first film was at the age of seven -- and she's stayed sane this long, so she obviously knows the deal. She's taken that strategy to heart with three films in post-production, one just completed and, another season of 'Modern Family' on the way ... and no tabloid fodder yet!