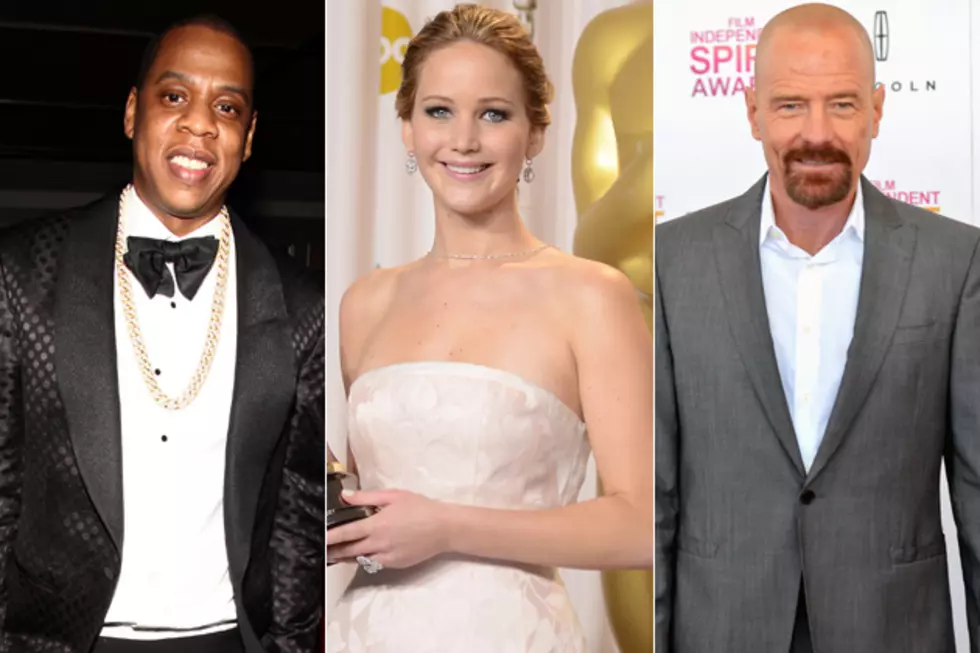 Stars Talk About Each Other for TIME's List of the 100 Most Influential People
Paul Zimmerman / Jason Merritt / Alberto E. Rodriguez, Getty Images
TIME Magazine has unveiled its annual Most Influential People list, which is comprised of five separate categories: Artists, Leaders, Pioneers, Titans and Icons.
For example, you may not care that Hova is considered a Titan (you knew that already), but what New York City Mayor Michael Bloomberg said about the erstwhile Sean Carter caught our attention.
He's never forgotten his roots — 'Empire State of Mind' was a love song to our city — and as a co-owner of the NBA Nets, he helped bring a major league sports team back to Brooklyn, not far from his old neighborhood. In nearly everything he's tried, he's found success. (He even put a ring on Beyonce.) And in doing so, he's proved that the American Dream is alive and well.
His star power comes from the fact that he sounds like he's having fun when he makes music, and he can read a song—meaning as a singer or songwriter you can feel the emotion. You think, I can relate to that or I believe in that, and then the listener can feel it too. When Justin reads a song like 'Cry Me a River' or 'Suit & Tie,' you become part of that emotion.
Jodie Foster explains our fascination with Jennifer Lawrence:
You'll remember where you were when you first felt it, how you were stuck to one spot like a small animal considering its end. The Jennifer Lawrence Stare. It cuts a searing swath in your gut ...

Sure, this girl can act. But, man, this girl can also just be. All of those painful secrets in her face, the feeling that there's some terrible past that's left impossibly angled bone and weariness in its wake.

The good news is that Jen, her good-humored, ballsy, free-spirited alter ego with the husky voice and a propensity for junk food … Jen, the spritely tomboy from Kentucky — that Jen's got it together. A hoot. A gem. A gem with a killer stare.
AMC colleague and friend Jon Hamm about Bryan Cranston's career:
Over the past five seasons, I've marveled at Bryan's ability to turn Breaking Bad's Walter White from a feckless, terrified father and husband to a ruthless, terrifying father, husband and crime lord. The transformation is mesmerizing ... his film career has flourished, as more and more people realize just how good he is. Through it all, he has remained friendly, funny, gregarious, humble and lovely.
And finally, fellow influential person Justin Timberlake shared an amusing anecdote about how late-night host Jimmy Fallon made his wedding reception unforgettable:
Picture this: I'm in the heart of an impromptu speech at my wedding reception in front of 150 guests, pouring it out to my lovely new bride. You could hear a pin drop. I paused for just a moment in between thoughts.

And then there was Jimmy, shouting a joke from his seat, sparking an improv between the two of us that went on for a good five or 10 minutes and had all our guests roaring with laughter.

Interrupting the groom's speech at the wedding reception? Cracking jokes when your buddy is looking desperately for the words to say that he hopes his wife will remember forever? It turned into a moment that everyone there will remember forever.

Anyone else would have bombed on that stage. And then I would have kicked their ass. But this was Jimmy Fallon.
For more of these celeb-to-celeb revelations, head over to TIME to see its 100 picks for 2013.