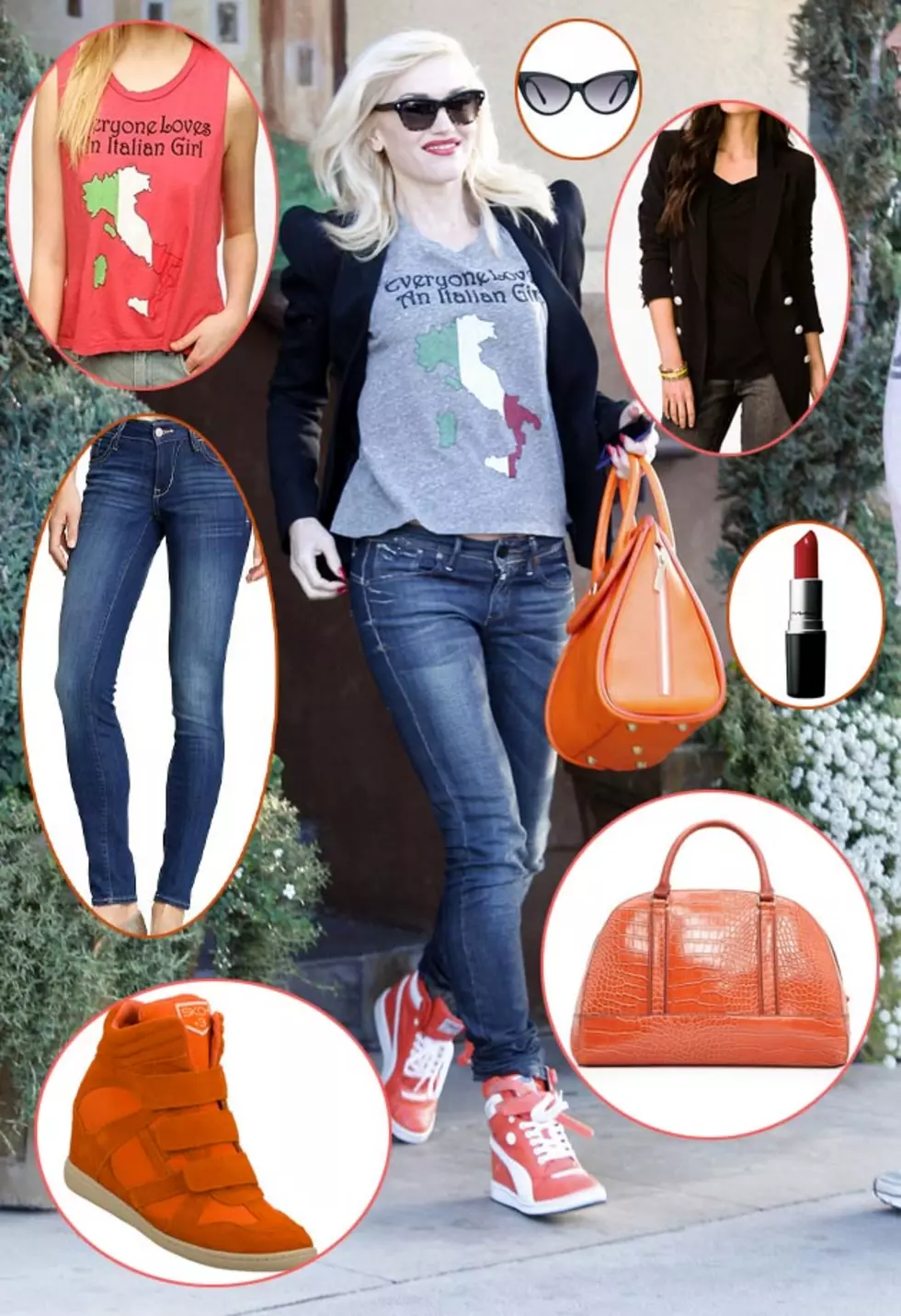 Get the Look for Less – Gwen Stefani's 'Cool Mom' Jeans, Blazer, Tee + More
Pacific Coast News
In a recent poll, radio listeners voted Gwen Stefani the coolest mom in music -- and this stylish "running errands" ensemble reminds us why. Her jeans, blazer, sneakers and tee make her appear dressed down, but it's a deceptively a high style look, thanks to the details.
Wanna ape this outfit? Well, that's what we're here for -- because we've recreated her look for less than $250.
The tee, which salutes her Italian heritage, is less than $10 on sale. We picked it in red.
Dark, tight skinnies are versatile with everything in your closet, but they really work with the bright pops of color in this ensemble. For around $20, the pants are a steal, since you will get multiple wears.
The statement shoulders on her blazer elevate this street ensemble to high fashion. Luckily, you can grab one at the mall.
A top handled, structured bowling bag also adds richness and color. You can grab a croc-style copy for a steal, and match it with a pair of equally bold-hued and stylin' kicks.
Cat-eyed black sunnies and a slick of rich red lipstick complete the presentation. Add 'em  all up, and for $230, you too can look the part of a hot mama like Gwen.
LeShirt Everyone Loves an Italian Girl Muscle Tee, Urban Outfitters, $9.99
Women's the Rockstar Super Skinny Jeans, Old Navy, $19
Hammered Button Blazer, Black, Forever 21, $39.80
Touch Croc Embossed Bowling Bag, Orange, Mango, $59.99
SKCH Plus 3 Raise the Bar Sneakers, Orange, Skechers, $70
Cat Eyed Sunglasses, Black, ASOS, $16.97
Lipstick, Russian Red, MAC, $15