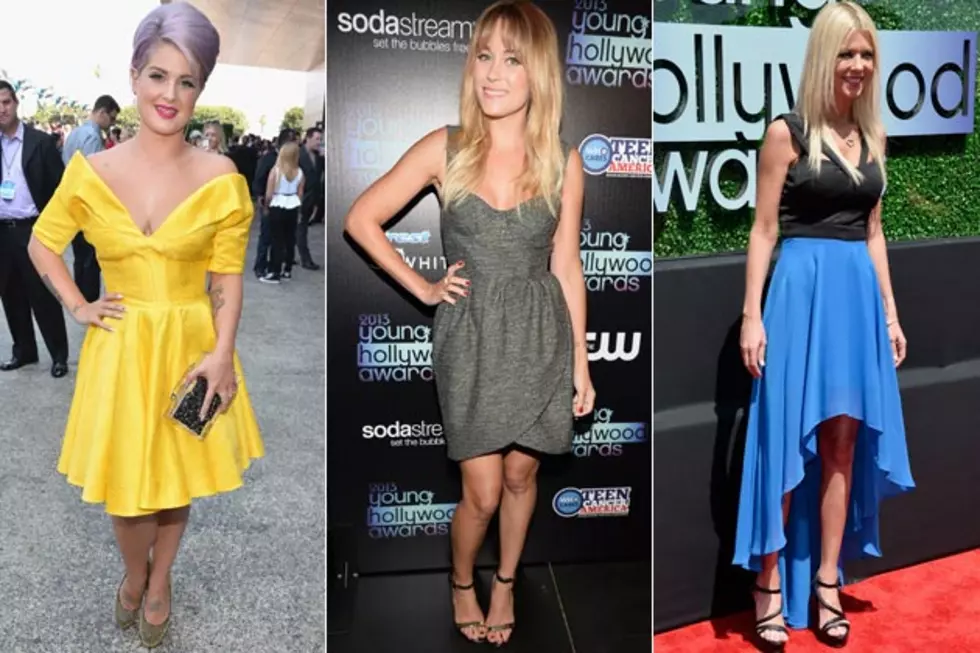 2013 Young Hollywood Awards Red Carpet: Kelly Osbourne, Lauren Conrad + More [Photos]
Alberto E. Rodriguez (2) / Frazer Harrison, Getty Images
The young and stylish in Los Angeles turned out for the 2013 edition of the Young Hollywood Awards, held tonight (Aug. 1). The carpet was teeming with well-dressed personalities, ranging from fashion host Kelly Osbourne, who was brighter than the sun in a yellow frock; reality show star and designer Lauren Conrad, who was prim and trim in tweed, and 'Sharknado' star Tara Reid, who went a little fancier with a long-short dress.
Here's our rundown of who wore what.
Kelly Osbourne:
She's been making the rounds this week. Miss O. followed last night's LBD with a bright, bold, lemon yellow dress with a vintage, off-the-shoulder, '50s housewife cut. Her lavender-tinted bouffant gave it a modern edge.
Lauren Conrad:
Conrad's budget line for Kohl's has been incredibly successful, largely because her personal style is so chic. This tweed-like mini with a bustier top showed off her shape.
Tara Reid:
The actress is experiencing a career resurgence thanks to the so-bad-it's-brilliant 'Sharknado' film. She was black and blue in a summery, asymmetrically hemmed dress that was long in the back and short in the front, showing her edgy strappies. The cobalt bottom is the color of the summer.
Kathy Griffin:
The comedienne isn't young, but she was fresh in a silvery dress of a flattering length.
Alyssa Milano:
The actress tackled several trends with a laser-cut pantsuit, neon heels and bouffant suicide roll. Pantsuits are hard on a petite, short frame, but Milano's accessorizing and hairstyle added the illusion of some height.
Selena Gomez:
The toast of Young Hollywood, the always on-trend singer went with an LBD and strappy heels. She was sexy as always.
Lucy Hale:
She's a 'pretty little liar' and well-dressed in crocheted and belted separates with scallop details. Hale was one of the best-dressed and tressed of the night.