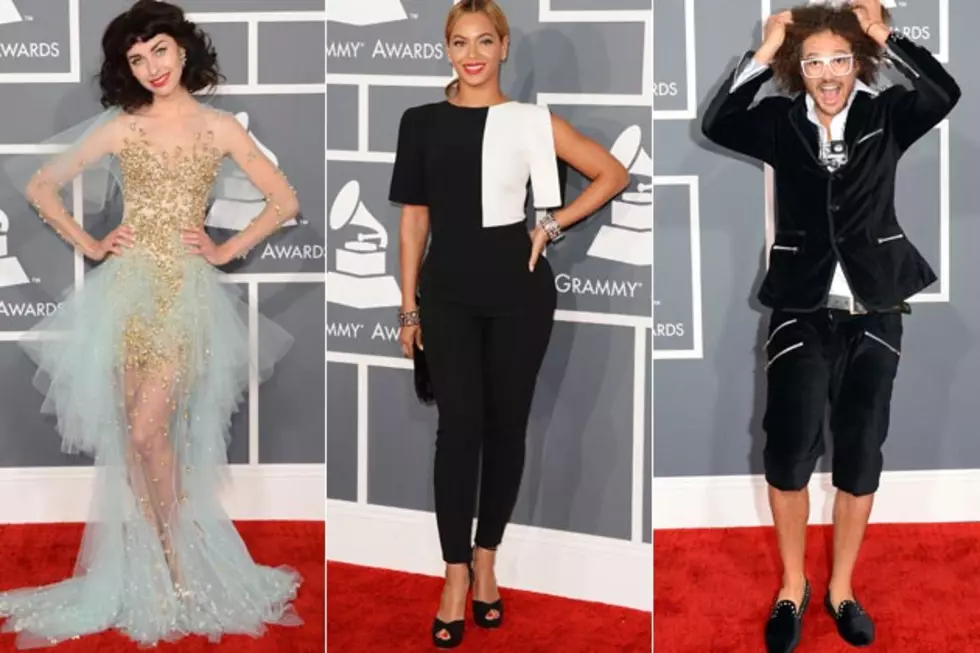 2013 Grammys – Worst Dressed [PHOTOS]
Jason Merritt (3), Getty Images
Two of music's biggest voices - Adele and Beyonce - landed on the Worst Dressed list at the 2013 Grammys. That's not something we expect from either fashionable diva. But you know what, Katy Perry and her unsupported knockers also ended up on this list. So did her beau John Mayer for his Joker-like purple suit jacket.
Without further ado, here are our selections for Worst Dressed at the 2013 Grammys.
Beyonce
It looks like the always-fab Bey put little to no thought into this outfit -- couldn't she have grabbed something gorgeous and glam from her own House of Dereon line? Guess not. She wore a mostly black pantsuit with a little white color-blocking on one shoulder, and it was way too casual for Music's Biggest Night. As much as Bey is the queen, she did not pull this off or rock it.
Florence Welch
The British singer understands that given her flame-hued hair, she's limited to a specific color palette with her dress choices. She chose a rich, emerald green gown by Givenchy, which was wise. However, the clingy, stretchy fabric with "horns" looked more like the material on a children's toy than a high-end gown.
Jenna Jameson
Pink really went all out with the gold foil, didn't she? Oh wait, that's not the pop singer. It's ex-porn star Jenna Jameson, copying Pink's punky, bleached blonde faux hawk. WTF was she doing at the Grammys, right? Well, regardless, this gold column foil gown, which kept her covered up, didn't do much for her. This brocade dress was boring for someone who made her living ... how she made her living.
John Mayer
His purple velvet blazer, which was vintage Tom Ford, was too much like something the Joker in Batman would have worn. It was a bit too loud for our taste and it clashed with his date. We'll get to her next.
Katy Perry
Perry said her clingy mint green Gucci gown was inspired by Priscilla Presley from the 1970s. Sadly, there was no support for her considerable assets, which were popping out all over the place. It was too much of a good thing. Rein those things in, girl!
Kimbra
The female vocalist on Gotye's smash hit 'Somebody That I Used to Know' donned Australian designer Jaime Lee Major and looked like a fairy while doing so. On Lady Gaga, this works. On Kimbra, it's a bit too costume-y and whimsical. This is better served for keeping Peter Pan and the kids in Neverland.
RedFoo
The party rocker from LMFAO wore a velour-look shorts-suit. With slippers. SLIPPERS? Never a good look outside of the bedroom, no matter how much you party rock. Not even the perpetually pajama-clad Hugh Hefner would wear those things in public. Or would he?
Adele
The beautiful British songstress chose a pink, red and black printed floral Valentino and it was too loud and too busy for her figure. She usually choices wisely and sticks to monochromatic designs, but this was a bit fussy her. She still has that post-baby glow, though.