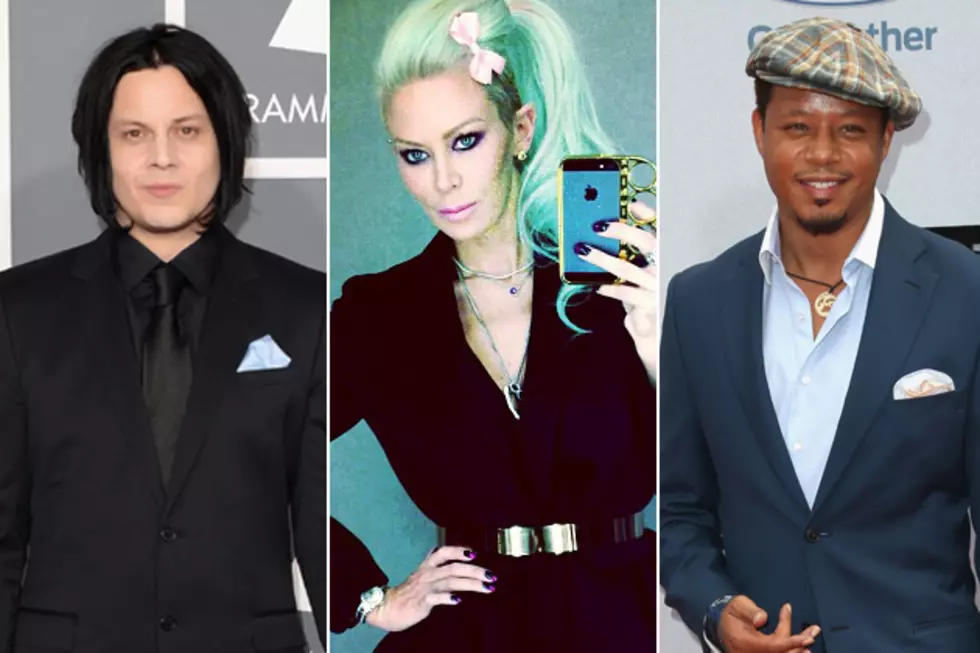 Celebrities Slapped With Restraining Orders
Jason Merritt, Getty Images / Instagram / Frederick M. Brown, Getty Images
Lots of people were surprised when quirky White Stripes singer Jack White recently wound up with a restraining order against him -- but as celebrities go, he's far from alone. While the norm is for the famous to file protective orders against stalkers or other human irritants, everyone from Jenna Jameson to Terrence Howard have found themselves ordered to stay 100 feet away from their own victims.
Jack White
The White Stripes frontman's estranged wife, Karen Elson, got a restraining order against him in July of 2013, saying she fears for her safety and that of their two young children. Jack filed a response denying her claims, and his attorney says the whole mess has to do with disagreements over their 2012 divorce and how to co-parent their kids.
Mel Gibson
The notoriously hot-headed actor has unsurprisingly had at least two restraining orders against him. The first, in 2010, came as a result of his messy public split from baby mama Oksana Grigorieva. And in the second, Mel's elderly onetime stepmother Joye Gibson filed legal docs last year saying Mel spit in her face and "committed domestic violence" against her while she was married to his father Hutton.
Chris Brown
Breezy was ordered to stay away from Rihanna after famously beating the pretty off her face the night before the 2009 Grammys. Two years later, with Rih's consent, the order was changed and he was allowed contact provided he did not "harass, annoy, or molest" her. Just in time, too -- because she inexplicably took him back not long after.
Gabriel Aubry + Olivier Martinez
Lots of restraining orders involve a woman, but apparently one like Halle Berry can spark two such filings in short order. The whole thing started on Thanksgiving night last year, when Aubry -- the father of Berry's daughter Nahla -- got into a scuffle with Martinez, Halle's then-fiance. Blows and French insults were exchanged, and by the time the police sorted things out, Berry had a restraining order against Aubry, and he had one against Martinez. But eventually, everyone stood down.
Charlie Sheen
Charlie Sheen's most recent ex-wife, Brooke Mueller, got a restraining order against him in March of 2011 -- shortly after a Christmas brawl in which she said he held a knife to her throat. At the time, Sheen was in the midst of his very famous public meltdown (he was fired from 'Two and a Half Men' days later), so Brooke certainly seemed believable. And maybe she was -- but since she's now been in rehab 19 times, her credibility is a bit more suspect.
Joe Francis
The douchey founder of the now bankrupt 'Girls Gone Wild' empire was slapped with a restraining order earlier this year after the bankruptcy trustee said Joe threatened GGW employees and tried to fire them for not obeying his commands. (Not long after, Francis proved what kind of guy he really is when he was convicted of assault and then publicly said the jurors in his case were "mentally f---ing retarded" and "should be euthanized.")
Jenna Jameson
The legendary porn star and her brass knuckle iPhone case were arrested in April of 2013 when they allegedly assaulted Jenna's personal assistant, fellow former porn star Britney Markham. Things got uglier from there, and while the police later dropped the charges against Jameson, Britney filed for a protective order anyway.
Michael Lohan
Lindsay's father (who never met a tabloid payoff he didn't love) was ordered to stay 500 yards away from on-and-off girlfriend Kate Major in October of 2011 after he supposedly threatened to have her father "whacked." But she couldn't have been too afraid, because by the following summer, Kate was visibly pregnant with Michael's baby -- conceived while the protective order was in place. (Their son was born this past January.)
Terrence Howard
In December of 2011, Howard, the Oscar-nominated star of 'Hustle & Flow,' was accused of domestic battery by his then-wife Michelle, who claimed the abuse had been going on since shortly after their marriage in 2010. He denied everything, but she got her restraining order and the couple later divorced. However, old habits must die hard -- because on Aug. 5, 2013, Michelle claimed Terrence beat her during a recent trip to Costa Rica.
Anthony Michael Hall
It's hard to imagine the geeky guy from 'The Breakfast Club' getting violent with anyone, but back in November of 2009, an ex-girlfriend claimed the Brat Packer tried to kick in her apartment door. Then, for reasons unknown, she let him in, after which he allegedly slammed her head against the wall. Through a rep, he denied the incident occurred, but she filed for and got a protective order.